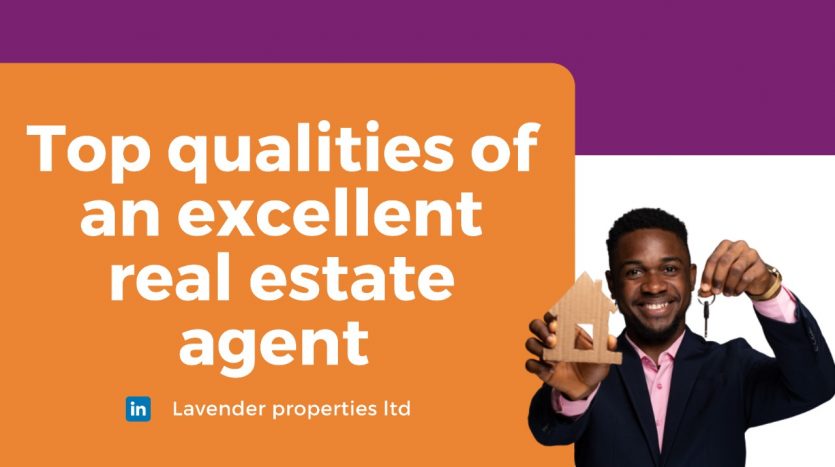 Appraisers, house inspectors, property managers, contractors, bankers, mortgage loan officers, government organizations, and potential buyers and sellers are just a few of the many players in real estate. The real estate agent, who organize the process, are the unsung heroes of the average real estate transaction.
Real estate brokers help clients buy, sell, and rent homes. Real estate agents and salespeople do comparable tasks to real estate brokers. However, brokers are authorized to run their real estate businesses.
If you are interested in engaging the services of a competent real estate agent, then this article will help you identify the top characteristics to look for in a top real estate agent. Equally, if you wish to be a highly sought-after real estate agent, this article will help you become one. Read on to find out more about these qualities.
Top ten traits of an excellent real estate agent
Knowledgeable
Knowledge is power. People are usually attracted to knowledgeable professionals in their specific industry/line of work. You will feel much more comfortable working with an agent who has a lot of knowledge about the best house deals, whether to rent or buy property, which banks offer the best loans and mortgage packages, best house designs and building materials, to mention a few.
The two best ways for a real estate agent to ensure they have all the vital knowledge are by doing more real estate courses and always being on the lookout for new industry practices and news. Invest in your education, and you will see returns in more and more clients wishing to work with you. Use the internet for your research, and never be surprised by the information you know nothing about when working for a client.
Well connected
Like any other profession, networking is essential in the real estate industry. You should make meaningful connections with other crucial players in the industry, such as contractors, service providers, real estate brokers, other real estate agents, bankers, and even people in relevant government agencies, to mention a few. Having such vital connections places you in a better place to be an industry leader with whom people will prefer to do business for efficiency and top results.
As a person who is interested in engaging the services of a real estate agent, look for well-connected real estate agents who will get you the best deals, and you will avoid wasting time. Having such people in your phonebook always makes you feel confident that you have a reliable person to call and solve problems efficiently in case of anything.
Understand the local housing market
Being knowledgeable about the real estate industry is one thing and being knowledgeable about the local housing market is another. A real estate agent will only be helpful if they know the specific locality you are looking to buy or rent a house/apartment. Therefore, ask specific vital questions about that locality to determine whether the agent knows the lay of the land.
Ask questions such as the price range of houses in that locality, land price range, types of homes in the area, population structure, and availability of social/public amenities such as schools, shopping centres, hospitals, gyms, sports clubs, roads, etc. Answers to such questions will give you the information you need to decide from your point of knowledge.
Genuine interest in houses and architectural designs
You can always tell someone's passion for something whenever they talk about it. A genuine love for houses and designs is essential, especially when you know little about homes and plans. You will need someone passionate about homes, that way; they will help you make the best decisions depending on your taste and preference.
A real estate agent with a genuine passion for houses and architectural designs is always eager to talk about it and help clients get the best deal and plan. Look for such agents, as they will help you make the best decision, educate you, and share essential information that will help you in the future.
Hustle and tenacity
An excellent real estate agent should be ready and willing to put in extra hours and work for less, especially when starting and looking for their first clients. They should also be willing to do the tedious work involved in looking for clients and good deals for their clients. Such agents offer their clients more and are always ready to work for them.
A strong work ethic is necessary to become a top-producing real estate agent. To be successful, you must be determined to pursue every lead and hustle to market your clients' assets vigorously. It's not just about working long hours; it's also about working efficiently, putting in the correct amount of time, and going above and beyond to complete the sale.
Always show your clients you are willing and eager to work for them and help them whenever possible. Clients admire such qualities.
Attention to detail
An excellent real estate agent should be well organized, ethical and well prepared for all their clients. They should have a well-detailed personal calendar and daily activities schedule. That is the best way for them to ensure that they give all their clients adequate time, never miss meetings and appointments and serve all their clients properly.
Such details are also essential since if a real estate agent lacks them, they aren't well organized and are susceptible to missing critical components in paperwork, deals and transactions.
As a client, you usually won't want to be part of the lengthy paperwork procedures. Therefore, you should look for a real estate agent you trust to take care of the paperwork. That means all the details involved in the deal should be accurate and finalized within a specified period.
Honesty and integrity
As a client looking for services in the market, you should always choose to work with an honest person whose integrity is unquestionable. Some of the deals you may want to carry out may involve a lot of money; therefore, you need someone you can trust to carry out the agreement in uttermost good faith. The best place to start is to research whether they are registered or part of any professional organizations and whether they are certified to offer such services.
You can also ask around whether they are trustworthy before engaging them. It's no surprise that most victims of cons and scams do not conduct any background checks on the people who con them. Don't be one of these victims. Instead, do background checks and ensure the people you work with are ethically upright and honest.
Self-motivated
A high level of self-motivation, drive, and astute decision-making are necessary to succeed in real estate. Top real estate professionals all share the ambition to be in charge of their career destinies and bosses. An excellent real estate agent should have an inner drive other than completing a deal and being paid.
Always choose someone you can see their desire to grow, ambition to succeed and inner drive to be the best at what they do: Someone who is not doing it for just the money or any other financial gains. Therefore, they are ready to go above and beyond in their pursuit of self-growth and development in the industry.
Engaging personality
There are probably very many real estate agents who offer services out there. However, not all of them will have many clients and success in the industry. At times it all comes down to your character and personality.
Clients are more likely to be attracted to you if you have a welcoming personality and vibrant character, exude confidence and can carry out conversations easily with your clients: An effective real estate agent markets themselves in addition to selling homes. It's crucial to display your true self. If you have a positive outlook, are approachable and honest, are confident in your skills, and are eager to assist others and yourself, people will respond appropriately.
Problem solver mindset
An excellent real estate agent should be a quick thinker and constantly aware of the immediate solutions to various problems related to houses and properties. This trait should come from their professional experience, connections, educational background, and academic knowledge. Many clients always look to work with knowledgeable agents with a problem-solving mindset, meaning there will be few delays and time wastage when carrying out deals.
That means they can avoid whichever obstacles (legally) when getting their clients the best deals.
Many details and complications are involved in making specific real estate deals. With some knowledge, connections and the ability to make quick decisions, an excellent real estate agent should be able to get you what your heart desires.
To sum it all up, it is essential to engage the services of a real estate agent whom you can trust to get you the best deal. Therefore, the above points differentiate between a good and an average real estate agent. All you want is top-notch services and the value you desire. Don't be afraid to make some hard decisions when choosing your best agent.